Driver Qualification File Management Software & Service
Stay Organized & DOT Compliant With DQ File Management
Staying in-line with Federal Motor Carrier Safety Administration (FMCSA) regulations should be top priority for those in the transportation industry. At New Era Drug Testing we make managing your DOT drug testing and driver files more efficient with our Driver Qualification (DQ) File Management Software and Service. Our management software allows you to spend less time sorting through hours of paperwork and more time focusing on your business.
Our DQ File Management Service assists with establishing, organizing, standardizing and maintaining your DOT driver documentations, which includes documents such as safety performance history, MVR and driver application for employment. New Era's DQ file management service also tracks and keeps all company-related documents
DQ File Management Software For FMCSA
A Better Way To Manage Driver Files
Our DQ File Management Software and services are customized for all FMCSA enrolled and registered drivers and companies that are regulated by DOT. Have all your compliance-related files stored in one simple, easy-to-access platform and potentially avoid hefty fines.
Streamline Your Compliance Procedures
Mandatory Federal Requirement
Driver Hiring Automation
MVR's
Safety Performance History
DOT Physical Exam Certificate
Driver Qualification & Background Check
Previous Employer Verification & Screening
Clearinghouse Query
Monitoring Expiring Licenses & Medical Cards

Benefits Of DQ File Management Software & Services
Trying to keep track of everything involved with driver requirements, filing, keeping up to date on policies can be difficult on top of everything else required with daily tasks at your organization.

Our Driver Qualification (DQ) File Management Software and Services allow your company to be:
DOT Compliant
Organized
Up To Date
Increase Productivity
Get Started
Stay Organized & DOT Compliant With DQ File Management
Multi-device access file management software and services to simplify your daily tasks.
Get Started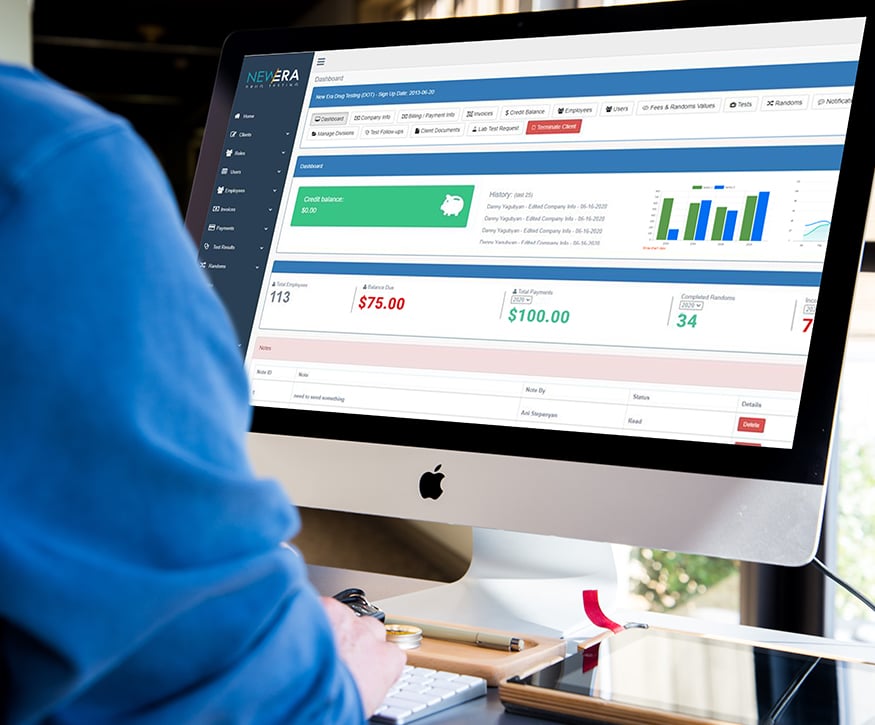 Driver Qualification File Management Software Features
The simplest DQ file management system to keep your company compliant and organized. Get access to background checks, motor vehicle reports, a law enforcement portal, and more.
Reliable Security:
Secure platform to keep your data safe.
Automatic Notifications:
Automate your email notifications.
Access To Reports:
Easy access to every report in an instant.
Simple Customization:
Personalize the platform to your exact needs.
Multi-Device Access:
Access your files from any device, anywhere.
Electronic Signatures:
Less paperwork with your digital signature.
Get Started
Dependable Customer Service At Your Fingertips
The knowledgeable team at New Era Drug Testing is readily available to provide expert guidance to our customers using the Driver Qualification File Management Software. Our team has years of experience in the transportation industry, so we know exactly what it takes to stay DOT compliant.
We also understand how time consuming it can be to keep track of all the documentations. We are here to help you! Contact us for any questions or help with your management system.
Contact Support Team